Background
In 1997, at the scene of a devastating fire that broke out in the Royal Jomtien Hotel in Pattaya, Thailand, from the tragedy loss of human lives and properties rued by Mr. Phanawatnan Kaimart was in the event and inspired to invent a fire extinguisher in ball shape called "Elide Fire Ball" and success on 1998. When a fire occurs, the first finder cannot stop the fire at the initial stage because of the high temperature of fire at 400 degree Celsius. If the first finder uses the feeding fire extinguishing tank, they cannot reach into the fire base 1.5 meter because of its function. Then, the fire cannot be stopped igniting. Moreover, from a reason that, the first finder do not wear fire suit to protect from the high temperature as like a Fire Fighter with the completed set with equipments. In even the fire fighters, they cannot extinguish the fire but they just spout the water around the fire to limit spreading out and be refrigerant and let area burned out. When a fire occurs, the first finder cannot extinguish the fire because the feeding fire extinguishers are not designed for the untrained and unpracticed representative while the fire occurring at initial stage 4-8 minutes but for the professional fire fighter with the completed set of fire suits and equipments. As our analysis from the reality fire situation, the professional fire fighter are not in the situation at the initial stage but for normal residences such woman, children and senile with no experiences from fire and untrained perception to extinguish a fire before which effects the way to extinguish a fire at the beginning. When represent found the fire, they just run out to be saved and call to the fire station for help but it may take time more than 8 minutes to stop firing at the initial stage. Unfortunately the fire causes a lot of damages from the reasons below;

The problem of the old type of fire extinguishers
Generally, it contains heavy weight which if the user need to get closed at the fire base at least 1.5 meter or around 6 feet and to feed the chemical to extinguish the fire, it is not enough free and safe for the user because of it heavy weight. Moreover, the feeding fire extinguishing tank need to be used along to 16 seconds at the fire base to feed out all of the chemical which truly the fire can spread out fast. If the fire ignites, the victim has the time to survive not much enough.  There are 3 steps of the fire ignition as;

1) Incipient Stage

Start from the ignition at the first 4 minutes which can be extinguished by the fire extinguisher but the user shall be trained in Fire Fighting course for most effective which in truly the finder shall afraid from fire and do not dare to entrance and extinguish it because of 100 degree Celsius. Then, the fire becomes to

2) Middle Stage
After the first 4 – 8 minutes, its temperature is over than 400 degree Celsius. Normal fire extinguishers shall be used by the high professional and need to be used the fire extinguishers much enough but the fire need to be extinguished by a high quality fire extinguisher for most effective and safe. At this stage, the finder may be scared this stage and run away. After this stage shall become

3) High Level Stage
At after 8 minutes of continually fire burned and the tinder still have been burned enough with over 600 degree Celsius, the fire can spread out in every direction almighty and rapidly. The fire fighter need to be trained and experienced in this stage and have enough equipment to extinguish the fire.

Elide Fire to solve the problem as following;
The weight of new fire fighting device must be lightweight so that you can use it by instinct and can be easily and quickly extinguish fire, and users who do not need any training.
The users of new fire fighting device will have to be remote from the base fire than 6 feet to avoid high temperatures over 400 degrees. When the fire more than 4-8 minutes, you should be let the fire extinguisher ball work automatically without someone who will take control as traditional fire extinguishers.
It will sound (impulse noise) when a new fire fighting device working to alert the peoples in the incident known that fire occurs. They will be aware of one self and escape to survive from the fire.
The new type of fire fighting device must be able to monitoring a fire automatically to prevent the electric short. Or at the time of peoples neglect when incense or candles to pay respect to Buddha or God and caused the fire. The new type of fire fighting device will extinguish a fire immediately.
While a fire occurs, there is no alarm which it is a silent tragedy.  The fire will be represented after 4 minutes of burning. From this reason, the first finder at burnt Royal Jomtien Hotel is a chef and he used the fire extinguishing tank fed to extinguish the fire but at more distant 6 feet caused from leaked out of cooking gas cylinder pipe. At the first sight, the chef did not dare to reach the fire base at 6 feet to extinguish, then, the fire was not extinguished by the chef and he just ran away and then thrown the fire extinguishing tank into the fire with believe that it can activate to extinguish the fire itself and then called to the fire station. When the fire truck came, they just could not start extinguishing and needed to wait for cutting out by local electricity authority because if they use water to extinguish the fire, it will be a electricity leader to the fire fighter. Moreover, there was no alarm for the residents. From this cause, the fire had been burning more than 8 minutes and became tragedy. The fire spread out almighty and rapidly in every direction and the residents need to survive by escaping from the fire burning. From this damage, 94 died and the properties were burned away. For Thailand Fire Statistics Report in 2008 shows the fire rate increasing continually scales to the population in every area. From the report, Thailand government shall be in charge of this problem to protect and solve this problem evermore. Altogether, a insignificant reason of  fire is the finder cannot extinguish the fire at the first sight of initial stage that they have to wait for the fire  fight only which it takes more 8 minutes and the fire becomes bigger and bigger because the normal fire extinguisher cannot be used in any reasons. From this failure, a new innovative invention of fire extinguisher is created to support the first fire finder to extinguish the fire without any worry to be saved themselves from the high temperature and the fire burn.
The problems of old type of fire alarm
Sprinkle and the Smoke Detector shall work effectively with a new building with first 5 years and the maintenance shall be in trouble for the owner and the residents. For example, the sprinkler system shall be tested and inspected to the system of water flowing to protect from the dregs, slits and foul moss.
For the system testing, all of the facilities and devices shall be kept or moved before the water feeding inspection. From this reason, the owner avoids the testing. For the fire detectors shall be installed its wires throughout the building and shall be inspected after 5 years because the wire may be damaged by insect and rat. Moreover, if system needs to be fixed or replaced, the owner shall spend a lot of money on it. From the reasons and the further problems of the spreading out the urbanizes pending to the increasing of the citizens make a lot of slums around. If a fire occurred, the residents cannot use the normal fire extinguisher and they need to change to use the new technological innovative automatically fire extinguishing invention, Elide Fire Ball, to throw and toss and let the Elide Fire ball activates itself automatically. Elide Fire Ball can be booster to protect from the fire tragedy for the citizens in the next millenniums with the simply ease and use to protect form fire for new generation.

How to extinguish a fire
From the result of fire in the past, using the fire extinguishing tank to extinguish a fire, normally, the user shall be scared and not dare to reach at the fire base, just need to escape only, finally, they cannot extinguish the fire. The Elide Fire Ball is created to be eased, simply, completely stopped re-igniting surely, and makes the user and property saved from fire respects to fire oxidation. Fire is a rapid oxidation of a combustible material (and/or substance) releasing heat, light, and various reaction products such as carbon dioxide and water. If it's hot enough, the gases may become ionized to produce plasma. Depending on the substances alight, and any impurities outside, the color of the flame and the fire's intensity might vary. Fire in its most common form can result in conflagration, which has the potential to cause physical damage through burning and can occasionally result in a phase transition in the affected mass if the temperature of the flame is hot enough and will decay if the tinder burn out. It means the fire needs to be cut out its chain reaction.

The outstanding feature of Elide Fire Ball
The Elide Fire Ball weights 1.3 Kg +-5%, round shape, handily to throw and toss into a fire. One unit covers and contains fires within a space of 9.12 m3 – the operational effective radius is 1.296 meters and for 2 units can cover and contain fires a space of 18.24 m3 or around 2.592 radius meter. The effective is in 360 degree directions. Its useful life is 5 years. Moreover, the Elide Fire Ball can extinguish 3 classes;  1A*, for fires would include blazes fueled by carbonaceous solids such as wood, cloth, paper, rubber or plastics with be a sentinel and extinguish a fire by throwing at least a unit or more for the bigger size of the fire. For 5B* class is to be a sentinel at the risk area such as inflammable material store room, LPG or CNG gas juncture. When a fire occurred, The ball will self-activate in 3-10 seconds after flame contact, bursting and spreading a dry chemical powder automatically and make an alarm noise such an aural warning sound of typically about 130-139 dB(A), within safety international standards under the regulation of the Impulsive Noise. The Elide Fire Ball is installed over the risk area 1.5 meter or about 6 feet. For C* fire class, the Elide Fire Ball shall be installed as a sentinel in a risk area which cannot be extinguish by water such as over an electric female plug. 
The Elide Fire Ball is used to be a sentinel and for extinguishing a fire and when Elide Fire Ball activates, it makes an alarm noise to express the fire occurring to the residents. In case, if the Elide Fire Ball is installed at the ceiling of houses or buildings, it will be a sentinel at the risk area. If a fire occurred, it can activate itself before the fire spreading out to the ceiling. Moreover, Elide Fire Ball can be used by any ages. The Elide Fire Ball will activate if it is touched by the a flame of fire not only by high temperature in every level but if the temperature is up to 85 degree Celsius, the Elide Fire Ball will be melted.
For the chemicals contained inside the Elide Fire Ball are not harmful to human and environment and they are certified by standard laboratories from many countries. The Elide Fire Ball is not contained any harmful chemicals which effect to the environment under the international standard legislations.
When the Elide Fire Ball activates, it cannot damage to the properties because its explosion is not strongly enough and it is combined a foam container with non-CFC and cannot be flammable.
Elide Fire Ball uses to be safe enough by without any risk to face with the high temperature and flame. Furthermore, after the activation, the exploded chemicals can be treated under the tree and poured by water to grow the tree as manure. From all of the reasons, Elide Fire Ball can be like a fire security sentinel for 24 hours. The Elide Fire Ball is a new fire extinguishing device for revolution the fire protection industry which changes fire safety industrial standard to be rapidly. The Elide Fire Ball is created under the inventor's objective to easily use to fight with the fires to be successful.
Elide Fire Ball is a new technology for fire safety protection invented by Thai, certified and awarded from worldwide. Mr. Phanawatnan Kaimart is willful in research and development the Elide Fire Ball to increase and upgrade the standard of the fire extinguishers for the most efficiency. Elide Fire Ball contains its small size to easily use which can extinguish the fire by untrained user along with alarm noise to let the residents aware for the fire occurring. The Elide Fire Ball can save the human kind effectively at the initial step and the appearance is exquisite which it can be a decoration as well.
Primary target market in the world market Elide Fire ball will enable each country's business interests.  Ready to take over as sole exclusive distributor in each country. Focused on developing new technologies to market individual consumers or households, offices, building large, high buildings, hotels, marine, cruise, government buildings, government offices. To satisfy, Needs and the need for a product. Elide Fire Ball, and exclusive distributors. Secured as the sole exclusive distributor. Can you management marketing system in that country. The product Elide Fire Ball has the right to intellectual property, Patented invention And other intellectual property support to protect their own markets. Emphasis on agreement at least three years. To achieve motivation to business in that country are interested become a sole exclusive distributor for in that country. And Elide Fire Ball sold throughout the world for innovation. This piece is part of an opportunity to help mankind.
In Thailand, an important opportunity to bring Thai products. The municipal government to enable the community of Thai people. Safe from fire. Elide Fire Ball is the latest innovation to the world. Will be considered the standard in fire protection. Replace the old type of bag fire. Elide Fire Ball is not only revolutionized industrial fire. Also play a role in changing attitudes to the idea of a more fire extinguishers. The company has appointed Elide Fire Ball Co., Ltd. is the exclusive distributor. Planning to market And distribution within the country.
The budget of fire safety device is around $21.3 billion all over continents.

The goal of the company
Goal No. 1, Modify the invention Fire balls to commercial development and design trademarks. Development testing into Elide Fire Ball is a prominent feature to the new standard in the Industry Fire  Protection and replace fire safety. And complement deficiencies of Sprinkler and Smoke Detector.       This time the smoke has alarm will sound, but Elide Fire Ball light touch to work on Fire and noisy. The unique experiment have sent invention to invention to a global job competition by various countries. And found that the fire ball invention. Or trade names Elide Fire Ball successfully won many.

Goal No. 2,
Invention Patent of Elide Fire Ball
| | |
| --- | --- |
| 1.Thai Patent | 2.Indian Patent |
| 3.US Patent | 4.Australian Patent |
| 5.Chinese Patent | 6.Turkmenistan Patent |
| 7.International WIPO Patent | 8.Armenian Patent |
| 9.Azerbaijani Patent | 10.Danish Patent |
| 11.Belarusian Patent | 12.Estonian Patent |
| 13.Kazakhstani Patent | 14.Spanish Patent |
| 15.Kyrgyzstani Patent | 16.Finish Patent |
| 17.Tajikistan Patent | 18.French Patent |
| 19.Moldavian Patent | 20.Greek Patent |
| 21.Turkish Patent | 22.Hungarian Patent |
| 23.Taiwanese Patent | 24.Irish Patent |
| 25.Latvian Patent | 26.Icelandic Patent |
| 27.Ukrainian Patent | 28.Italian Patent |
| 29.Indonesian Patent | 30.Lithuanian Patent |
| 31.Japanese Patent | 32.Luxemburgish Patent |
| 33.South Africa Patent | 34.Vietnamese Patent |
| 35.Filipino Patent | 36.Monacan Patent |
| 37.Korean Patent | 38.Maldivian Patent |
| 39..Nigerian Patent | 40.Dutch Patent of Netherlands |
| 41.Bahraini  Patent | 42.Polish Patent |
| 43.Kuwaiti Patent | 44.Portuguese Patent |
| 45.Omani Patent | 46.Romanian Patent |
| 47.Qatari Patent | 48.Swedish Patent |
| 49.Saudi Arabian Patent | 50.Slovenian Patent |
| 51.Emirati Patent of UAE | 52.Slovakian Patent |
| 53.Austrian Patent | 54.Mexican Patent |
| 55.Belgian Patent | 56.Argentinean Patent |
| 57.Bulgarian Patent | 58.Brazilian Patent |
| 59.Swiss Patent | 60.Israeli Patent |
| 61.Cypriot Patent of Cyprus | 62.Bangladeshi Patent |
| 63.Czech Patent | 64.Beninese Patent |
| 65.German Patent | 66.Burkina Faso Patent |
| 67.African Patent | 68.Cameroonian Patent |
| 69.Ivorian Patent of Cote d'Ivoire | 70.Congolese Patent |
| 71.Patent of Guinea | 72.Botswana Patent |
| 73.Malian Patent | 74.Ghanaian Patent |
| 75.Nigerien Patent | 76.Kenyan Patent |
| 77.Russian Patent | 78.Mosotho Patent of Kingdom of Lesotho |
| 79..Bissau-Guinean Patent | 80.Malawian Patent |
| 81.Senegalese Patent | 82.Mozambican Patent |
| 83.Mauritanian Patent | 84.Namibian Patent |
| 85.Equatoguinean Patent of Equatorial Guinea | 86.Sierra Leonean Patent |
| 87.Togolese Patent | 88.Somali Patent |
| 89.Chadian Patent | 90.Sudanese Patent |
| 91.Gabonese Patent | 92.Swazi Patent of Swaziland |
| 93.Zimbabwean Patent | 94.Tanzanian Patent |
| 95.United Kingdom Patent | 96.Ugandan Patent |
| 97.Zambian Patent | 98.Gambian Patent |
List of the Country filling for Elide Fire Trademark
| | |
| --- | --- |
| 1. Australia | 2. China |
| 3. Belgium | 4.Thailand |
| 5. Ukraine | 6. United Kingdom |
| 7. United Stated of America | 8. France |
| 9. Germany | 10. Greece |
| 11. India | 12. Ireland |
| 13. Italy | 14. Luxembourg |
| 15. Netherlands | 16. Portugal |
| 17. Russia | 18. Spain |
| 19. Sweden | 20. Taiwan |
| 21. Finland | |
International Awards and Certificates for the Elide Fire Ball and the inventor (Annex)
1. WIPO Awards, Gold Medal with Certificate from IIDC International Inventor's Day Convention 2008, Bangkok, Thailand
2. The IFIA Cup for the Best Invention of International Inventors' day, 2nd IIDC International Inventor's Day Convention 2009, Bangkok, Thailand.
3. Semi Grand Prize, SIIF Seoul International Invention Fair 2008, Seoul, South Korea.
4.Russian Gold Medal Award, SIIF2008, Seoul, South Korea.
5. Excellence Award, Minnesota Inventor Congress, USA 2008
6. World Genius Award, World Genius Convention, Tokyo, Japan 2007
7. Gold Medal Award with Mention, Brussels Eureka 2001 Belgium
8. Certificate of BACCI, Bulgaria
9. The Best Invention Award from Russia. EMERCOM
10. National Research Council of Thailand, Bangkok, Thailand, 2008
11. The High Impact Invention Award, 2nd IIDC Thailand.
International Awards and Certificates received by SSP for the new quality innovation and leadership of  invention development for the future
1. 33rd International Award for Business Leadership and Prestige, German
2. The International Quality Crown Award London 2004, United Kingdom
The Standard Testing Certificates for Elide Fire Ball from international standard laboratories which gathers in the CE Technical File such as Certificate from Canada, Certificate from Poland and etc.
1. Certificates of Quality Management System to Manufacture and Sales the Fire Extinguishing Ball according to ISO 9001 : 2008 From  TUV SUD Management Service GmbH, Germany
Domestic Awards and Certificates  
2. Intellectual Property Infringement Act
3. Trademark Registration Certificate
4. Product Registration Certificates from Thai Industrial Standards Institute
5. Sound Level Standard Guide Line from Occupational Safety and Health Thailand (South Eastern Area)
6. Material Safety Data Sheet for NH4H2PO4 from Occupational Safety and Health Thailand (South Eastern Area)
7. Chemicals Importation Regulation Requirements from the Dangerous Control Parameter Agent
8. Product Usage Permission for Fire Extinguishing from Thailand Fire Police no. TCH-001(DT. 909)
International Certificates
1. Certificate from the Main School of Firefighting Services
2. Certificates from The Main Institute of Mining Experimental Mine.
3.Certificates from Polish Association Of Workers Of Safety And Hygiene Of Work Services
4. Certificate of the National Institute of Hygiene
1. Certificate of Conformity, Russia Federal
2. The Sanitary-Epidemiological Conclusion
3. Certificate of Fire Safety
1. Certificate of Warranty form Republic of Turkey, Ministry of Industry and Commerce.
2. Certificate of Testing Result with K-9 police
1. Certificate of Testing of the Fireball after being exposed to underground conditions.
2. Testing Report from SABS
3. Product Certificates from the Local Municipality
1.Product Certificate from National Resources, Canada.
1. Testing Report from Australian Metropolitan Fire Service, South Australia5
1. Product Certificate from Lagos State Government
2. Product Standard Certificate from Federal Fire Service
3. Product Certificate of Standards Organization of Nigeria
4. Testing Report from Standards Organization of Nigeria (SONCAP)
1. Product Approval to import to Ghana
1. Testing Report from Indian National Test House
2. Certificate from Directorate General of Mines Safety
1. Testing Report from SirimQAS, Malaysia
2. Product Certificate from Malaysian Fire Brigade
1. Testing Report from PSB Corporation, Singapore
1. Approval to import and merchandise from Ministry of  the Interior
1. Product Certificate from General Directorate of Civil Defense
1. Product Approval to import and merchandise from Ministry of Commerce and Industry
1. Product Certificate from Uganda Police Fire Brigadegeadqiarters
1. CE Declaration
2.Industrial Figures
Perspective of Fire Protection and Prevention Industrial System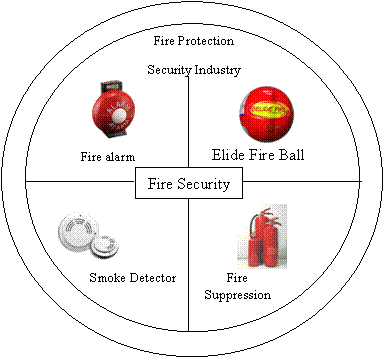 The Fire Prevention System contains fire prevention device and the fire protection device. For Elide Fire Ball is classified to the fire protection device which the device have most of the marketing margin is sprinkle and fire extinguishing tank.